Leg 1 - Indy to Kansas City
Leg 2 - KC to Hays Kansas
Leg 3 - Hays to Denver (Silverthorn, CO)
Leg 4 - Silverthorn to Hot Springs, SD
Leg 5 - Hot Springs/Rapid City to Kadoka, SD - this was after a full day looking at the Crazy Horse and Mount Rushmore monuments and Badlands in SD
Leg 6 - Kadoda to Sergeant Bluff, Iowa (just south of Souix City, SD
Leg 7 - Sergeant bluff to home.

The Green line is the trip out to Denver, the thicker yellow line is the trip back.

Pictures are coming, promise. For now, here are some of DC's pics.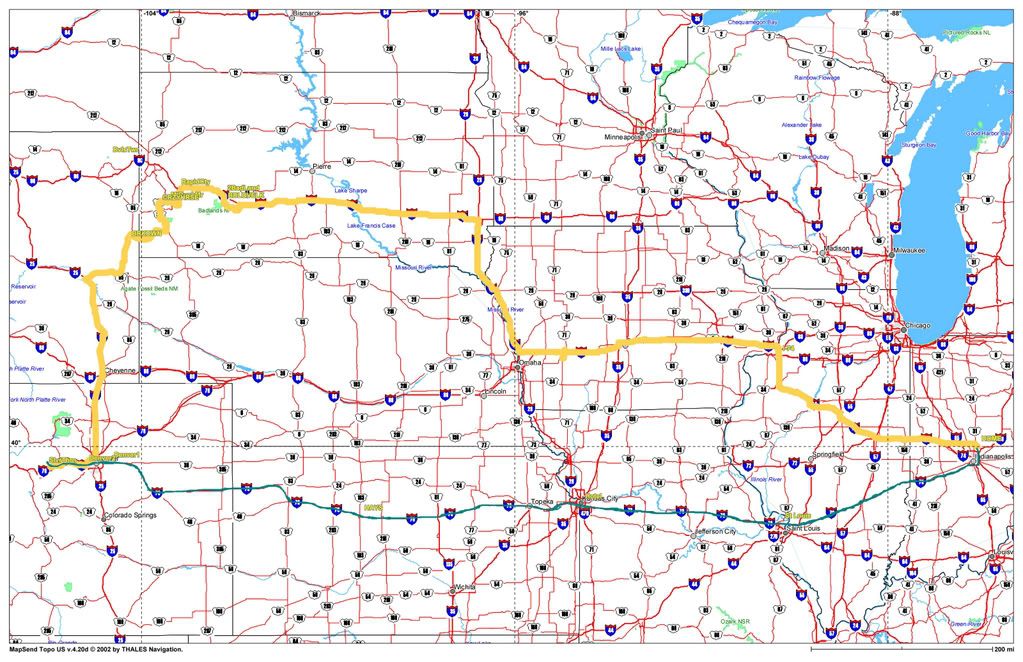 This one section (see below) of South Dakota is where most of the excitement was. On the far left is my breakdown. Hit a bump and all of a sudden "badabp, badabp, badabp" the engine got LOUD. Turns out both exhaust mounting bolts fell off of my exhaust pipe.

Exhaust pipe 200+ degrees, SD in July, nearly 90 degrees makes for very hot repairs and a long time waiting for things too cool down. Ended up limping on to Hot Springs, spent the night and hit up a local ACE for parts in the morning.

Once we left there we went to the sights at Mt Rushmore and Crazy Horse. Expensive. For just being rocks. Crazy Horse is just cool. And Massive. Dc's pics have a shot at a drawing with some dimensions on it. Massive I tell you, huge.

We left that area dn headed for the Badlands. We went through at about sun set. The colors were awosme and we got some great pictures. Again, you'll just have to be patient to see mine.

Spent the night in Kadoka and then on home,

No close calls, nothing major needed repaired on either bike. It was a great trip. I'd do it again today if it wasn't for having to pay the bills.