My bike has been giving me fits the last week or so. Sputtering, hard to start, back-firing. I had to charge the battery last week and actually had to have it jumped Friday to get home. But, me being the hard headed dumb (or smart) ass, kept riding. Saturday was a little ride to Kokomo IN for a family day at Grissom.

We (the Indiana Patriot Guard Riders) were asked to help with a family day at Grissom Air Force Base in Peru IN. We got to staff the various booths and help the base employees, their families and their kids enjoy a few hours at the base. DC and I volentereed to be in the craft tent. The big hit there was the temporary tattoos. I'll bet we did 100 kids arms and even a couple cheeks. (behave!!)

It was a little slow in the beginning so we were messing around (I know, you're shocked) asking just about anyone if they wanted a tat. One lady, very school teacher or librarian looking, told me when I asked her if she wanted a temporary tattoo, "No thanks, I already have 6". Heh heh cracked me up.

Another lady waked up with a tattoo in her hand, I looked at her and then the tattoo and was about to ask her 'where do you want it?' when she called her husband over and he brought their one (guessing here) year old son over and asked me to put it on his arm. He was asleep. OK... I thought. I peeled the paper, applied the tattoo and before they left, I just had to say, "if I ever fall asleep and my mom gets me tattooed while I was passed out..." shaking my head. The lady looked at me and said "Can't let him miss all of the fun". Oh man, we were all cracking up!!

After the craft tent we got to eat and ended the day in one of the hangers looking at a KC-135 Stratotanker refueling plane. We happened to find one of the flight crew and got kind of a personal tour. DC's was a mechanic in the Army and he is a machinist and I have an engineering background so we were in mechanical geek heaven. Double redundant this and wire over hydraulic back up for that. 204,000 lbs of fuel can be carried on these planes. He told us they often find parts with date codes that are 1958 +/-. That's older than me!! The plane we toured has been in service sine 1964.

Did you know there is an emergency switch in the tank area, that forces all of the fuel to the back and can cause the plane to 'sit back on its ass'?? Yeah, me neither. Our tour guide said, one day he walks into the hanger and there was no one immediately around, then he realizes they all were hanging off the front landing gear. 8 or 10 guys all hanging on the wheel assembly trying to keep the plane from tipping back onto its butt. That would be hilarious to see!!!

While we were in the hanger, it started to rain. Not a nice light soaking ran, but a down pouring, lightening filled, gully washing rain. Needless to say we hung around trying to wait for a break in the downpour so we could maybe head out while it wasn't raining.

Ummm, no. Not gonna happen, we got suited up in the rain, left in the rain... we got wet. The walk to the bike alone was drenching.


Back to the bike... sputtering, spitting... remmeber?


Grissom to Kokomo is about 15 miles; before we get 10 miles down the road my bike starts cutting out. One cylinder is dropping. FUCK!! DNR – Dave's Not Riding, I can hear the jokes coming again. (it's an old story, remind me and I'll blog that one some day). DC points out that it seems better at higher RPMs... yeah, it does keep both cylinders firing. We head to the HD dealer, 40-50 MPH, tack pegged at 4,000 RPM. Poor girl is just screaming. We get there, (had stopped on the way up, so we knew they were open) and they closed 30 min ago... FUCK me!!! We catch one of the managers (drivers a company truck complete with Kokomo HD on the doors) and he listens for a few minutes and askes if I'm having electrical issues... yeah, how the hell did he know that?? He could hear the stator dome spinning. He guesses. Also guesses it would be $600 to get it fixed BUT they can't start until Monday. FUCK again!!! Kokomo is about 40 miles from home. I'm not spending the night and all day Sunday in the parking lot.

DC says, 'let's limp it back to my house and we crack it open and see what we can see'. We agreed if things did not work out we could take the box of parts to another HD mechanic friend of ours and he could fix it, he can fix anything.

(Greg at Cycle Machine, seriously. You need a HD fixed, especially an older one, He IS THE man)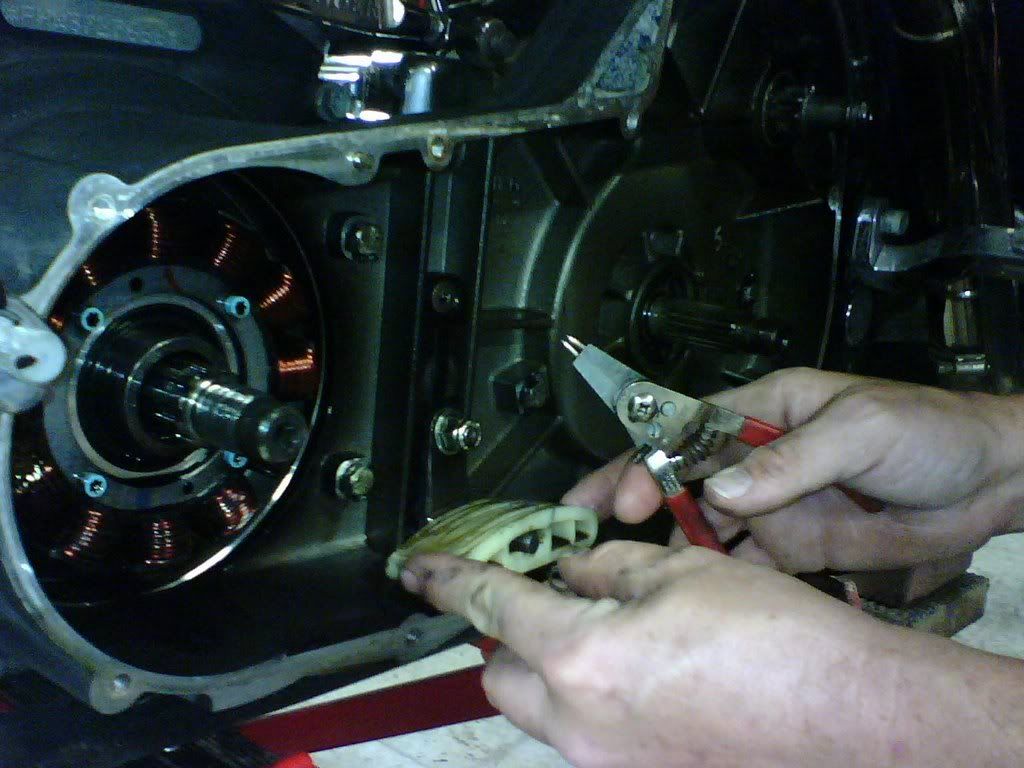 Where was I? Oh yeah, we tear down the primary drive train. ('we' I said... ha ha. I watched, DC did the real work, I just bought the parts). Parts started out at 180 and ended up at 325. As DC likes to say, 'you have to have a special bike'. It's a police bike, and it's been modified. So, it costs more when shit breaks. Oh well... I'm special, what can I say??

He gets it back together and we go for a 'test ride'. Down the road, it sounds great. Clutch is good, engine runs sweet! No back firing, no sputtering!! Yeeesss!! I'm SO relieved and excited and... giddy, yep I was giddy. Road home, about 45 miles and had no issues.

Hell of a weekend!!! Ride out in the rain; laugh at, with and because of a bunch of little kids; ride in the rain; realize my $14k baby is real sick; tear her apart; put her back together... succesfully. All is good.

So.... How was your weekend???