We got some snow. It's cool. I really love snow and cold.

A little before this snow we had rain. Not as much as in this flood pic but enough to bring the river up. Needless to say everything was wet. Then it froze. For this area, it froze quite hard. I think it was in the upper teens and low 20s. This after a long string of days in the 50s and 60s.

As cold as things got, I was not surprised to find my car doors frozen in place and my car windows frozen in place. Just wouldn't go down. The only reason to open car windows in the winter time is to get fast food handed in. I live on fast food so, they have to be made to work again soon. Just before this snow, we got back up to the 30s. So, I was messing with the windows. One by one they were breaking loose and working again. I tapped on the widows with my fist to break the ice then would try the window again. When I got to the drivers window, I tap, tap, tapped and whoosh… the whole window disappeared. Just dropped like a rock into the door.

Shit!! Now what…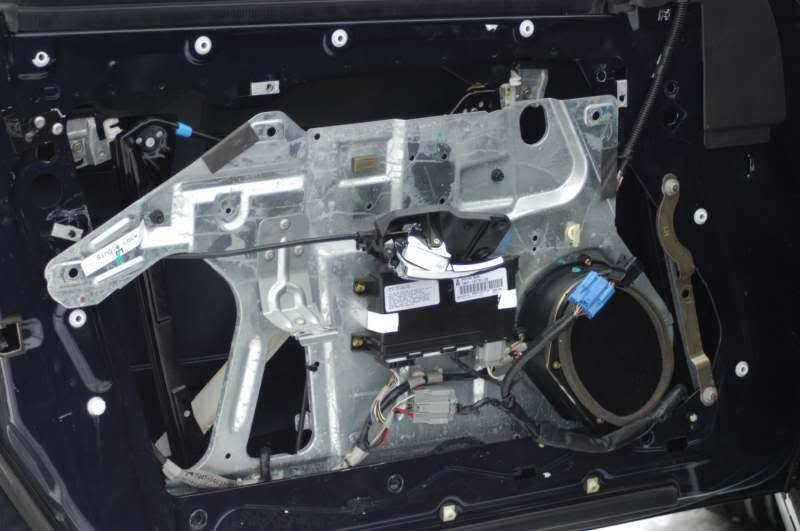 Luckly I replaced the door handle over the summer. That was a major headache. Getting at the window parts is going to be more involved, I know. I was hopping against hope that the window had just 'jumped the track' or slipped some part out of place, but Nnnooooo. Of course not. There are plastic parts that have broken. (see upper left and upper right of left pic) Grrrr. I know there has to be a better way to engineer an electric window.

I can't get parts until Monday at the earliest. So there is a paint stir stick (see right picture) wedged into my door holding the window up. And I get to drive around without an arm rest, no door lock/unlock button, needless to say I can't put the windows up or down. I just hope the stupid stick holds until I can get the parts and fix the stupid thing.