I used to marvel at 'older' people when they would comment 'I've been to the funeral of 4 friends this year' and wonder naively, wow, four friends die in less than a year. What happened to them? I know what happened, they got old!!

With the PGR I've made many friends, most older than me. We go to these missions (PGR word for funeral) and see each other, we hug and cry (yes, damn it, bikers cry) seeing the sacrifice a family has made. Some people you get close to, others you know by site only.

A friend's husband died a little over a year ago, another friend I've blogged about here and here is fighting cancer, one PGR member and friend got killed riding his bike in Tennessee, another died in his sleep the first of the year and my blodfather got me started doing this by having a heart attack.

Now I find out almost a week after the fact, Dirtbike, (a.k.a Dirtbag, or Douchebag) has had a 'heart event' (his words) and has been in the hospital for about a week. He lives near the Michigan line and not seeing him for weeks is not uncommon but to find out he has been in the hospital for a week was like getting hit by a truck.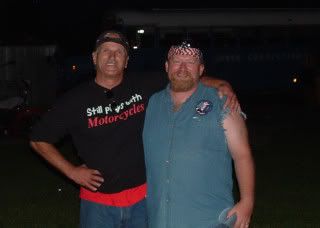 I want to leave work NOW and go kick his motherfuckingass for not telling me. I swear to God if that little shit says anything like "I didn't want to bother you'... as soon as he is better, I'm gonna fucking kill him!!!



DirtBag and Me
So what am I saying... Everybody (PGR friends, work frineds, and bloging friends) just stop!! No more getting older, no more 'heart events' no more cancer, no more making me feel like there's a bike parked on my chest. My heart can't take it.