Have I mentioned I don't like heat... How about the red/blonde hair, fair skin and being easily sun burnt??

I went to today's PGR mission fully knowing of my short comings. I ate twice my normal breakfast (two pop-tarts), before noon I had drunk 4 bottles of water and I ate a power bar around noon. As the service ended around 1300 hours, I got light headed... I had to sit down or I was going to fall down. Now trying to ride a bike with no real sence of balance isn't a good thing. So, I rested for a few minutes and tried to get up and about fell down again... the procession to the cemetery left without me. I laid in the grass behind the church for about 30 minutes and made it north about 1 mile to a gas station where I got some Gatorade and some cheese crackers. Sat there for about 30 minutes. Took this pic of a thermometer under the canopy at the gas station.

I'm just glad no one from the family saw me about passed out.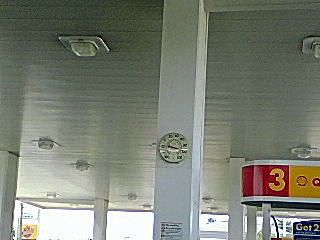 I know it is hard to see, but the needle is pointing at 100... in the shade...